Product Summary
The 74HC573N is a high-speed Si-gate CMOS devices and are pin compatible with low power Schottky TTL (LSTTL) . The 74HC573 is specified in compliance with JEDEC standard no. 7A. The 74HC573 is an octal D-type transparent latche featuring separate D-type inputs for each latchand 3-state outputs for bus oriented applications.
Parametrics
74HC573N ratings: (1) propagation delay, TPHL/TPLH, CL=15pF; Vcc=5V, tPHL/tPLH, Dn to Qn: 14ns, LE to Qn: 15ns; (2) input capacitance CI: 3.5pF; (3) power dissipation capacitance per latch CPD: 26pF.
Features
74HC573N features: (1) Inputs and outputs on opposite sides of package allowing easy interface with microprocessors; (2) Useful as input or output port for microprocessors/microcomputers; (3) 3-state non-inverting outputs for bus oriented applications; (4) Common 3-state output enable input; (5) Functionally identical to the 563 AND 373; (6) Output capability: bus driver; (7) ICC category: MSI.
Diagrams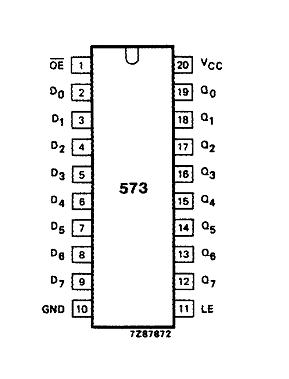 Image
Part No
Mfg
Description
Pricing
(USD)
Quantity

74HC573N,652

NXP Semiconductors

Latches OCT D LATCH INV 3ST

Data Sheet



| | |
| --- | --- |
| 0-1: | $0.13 |
| 1-25: | $0.12 |
| 25-100: | $0.12 |
| 100-250: | $0.11 |

Image
Part No
Mfg
Description
Pricing
(USD)
Quantity

74HC

Other



Data Sheet

Negotiable

74HC/HCT02

Other



Data Sheet

Negotiable

74HC/HCT03

Other



Data Sheet

Negotiable

74HC/HCT10

Other



Data Sheet

Negotiable

74HC/HCT107

Other



Data Sheet

Negotiable

74HC/HCT109

Other



Data Sheet

Negotiable