Product Summary
The AD1674JN is a complete, multipurpose, 12-bit analog-to-digital converter, consisting of a user-transparent onboard sample-and-hold amplifier (SHA) , 10 volt reference, clock and three-state output buffers for microprocessor interface. The AD1674JN is pin compatible with the industry standard AD574A and AD674A, but includes a sampling function while delivering a faster conversion rate. The AD1674JN is fully specified for ac parameters (such as S/(N+D) ratio, THD, and IMD) and dc parameters (offset, full-scale error, etc.) .
Parametrics
AD1674JN absolutte maximum ratings: (1) Vcc to Digital Common: 0 to +16.5V; (2) VEE to Digital Common: 0 to -16.5V; (3) VLOGIC to Digital Common: 0 to +7V; (4) Analog Common to Digital Common: ±1V; (5) Digital Inputs to Digital Common: -0.5 to VLOGIC +0.5V; (6) Analog Inputs to Analog Common: VEE to VCC; (7) Junction Temperature: +175°C; (8) Lead Temperature, Soldering (10 sec) : +300°C, 10 sec; (9) Storage Temperature: -65 to +150°C.
Features
AD1674JN features: (1) Complete Monolithic 12-Bit 10μs Sampling ADC; (2) On-Board Sample-and-Hold Amplifier; (3) Industry Standard Pinout; (4) 8- and 16-Bit Microprocessor Interface; (5) AC and DC Specified and Tested; (6) Unipolar and Bipolar Inputs; (7) Commercial, Industrial and Military Temperature Range Grades; (8) MIL-STD-883 and SMD Compliant Versions Available.
Diagrams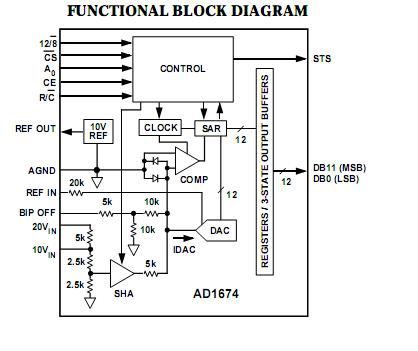 AD1674JN
Image
Part No
Mfg
Description
Pricing
(USD)
Quantity

AD1674JN



IC ADC 12BIT 100KSPS 28-DIP

Data Sheet



AD1674JNZ



IC ADC 12BIT 100KSPS 28-DIP

Data Sheet



| | |
| --- | --- |
| 0-1: | $16.58 |
| 1-10: | $15.33 |
| 10-100: | $13.10 |
| 100-250: | $12.02 |
| 250-500: | $11.44 |
| 500-1000: | $11.05 |