Product Summary
The AT89C51ED2-RLTUM is a high performance CMOS Flash version of the 80C51 CMOS single chip 8-bit microcontroller. The AT89C51ED2-RLTUM contains a 64-Kbyte Flash memory block for code and for data. The AT89C51ED2-RLTUM retains all of the features of the Atmel 80C52 with 256 bytes of internal RAM, a 9-source 4-level interrupt controller and three timer/counters.
Parametrics
AT89C51ED2-RLTUM absolute maximum ratings: (1) I=industrial: -40 to 85°C; (2) Storage Temperature: -65 to +150°C; (3) Voltage on Vcc to Vss: -0.5 to +6.5V; (4) Voltage on Any Pin to Vss: -0.5 to Vcc =0.5V; (5) Power Dissipation: 1W.
Features
AT89C51ED2-RLTUM features: (1) Integrated Power Monitor (POR/PFD) to Supervise Internal Power Supply; (2) ISP (In-System Programming) Using Standard Vcc power supply; (3) 2048 Bytes Boot ROM Contains Low Level Flash Programming Routines and a Default Serial Loader; (4) High-speed Architecture; (5) 64K Bytes On-chip Flash Program/Data Memory; (6) Hardware Watchdog Timer (One-time Enabled with Reset-Out), Power-off Flag; (7) Power Control Modes: Idle Mode, Power-down Mode; (8) Single Range Power Supply: 2.7V to 5.5V.
Diagrams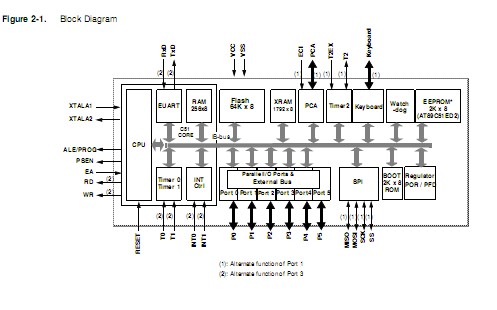 Image
Part No
Mfg
Description
Pricing
(USD)
Quantity

AT89C51ED2-RLTUM

Atmel

8-bit Microcontrollers (MCU) 64kB Flash 2048B RAM 2.7V-5.5V

Data Sheet



| | |
| --- | --- |
| 0-1: | $4.35 |
| 1-10: | $4.29 |
| 10-25: | $4.00 |
| 25-100: | $3.46 |

Image
Part No
Mfg
Description
Pricing
(USD)
Quantity

AT8934

TE Connectivity

General Purpose / Industrial Relays SEALED R RELAY

Data Sheet



AT8985P

Other



Data Sheet

Negotiable

AT8989UP

Other



Data Sheet

Negotiable

AT8992-A2-T-1



IC SWITCH PHY 64-TQFP

Data Sheet

Negotiable

AT8992M-A2-T-1



IC SWITCH PHY 100-MQFP

Data Sheet

Negotiable

AT8993-A2-T-1



IC SWITCH PHY 100-MQFP

Data Sheet

Negotiable