Product Summary
The MAX485CPA is a low-power transceivers for RS-485 and RS-485 and RS-422 communication. Each part contains one driver and one receiver. The MAX485CPA features reduced slew-rate drivers that minimize EMI and reduce reflections caused by improperly terminated cables, thus allowing error-free data transmission up to 250kbps. Applications of the MAX485CPA include: Low-Power RS-485 Transceivers, Low-Power RS-422 Transceivers, Level Translators, Transceivers for EMI-Sensitive Applications and Industrial-Control Local Area Networks.
Parametrics
MAX485CPA absolute maximum ratings: (1) Supply Voltage (VCC ) : 12V; (2) Control Input Voltage (RE, DE) : -0.5 to (Vcc +0.5V) ; (3) Driver Input Voltage (DI) : -0.5 to (Vcc +0.5V) ; (4) Driver Output Voltage (A, B) : -8 to +12.5V; (5) Receiver Input Voltage (A, B) : -8V to +12.5V; (6) Receiver Output Voltage (RO) :
-0.5 to (Vcc +0.5V) ; (7) Storage Temperature Range: -65 to +160°C; (8) Lead Temperature (soldering, 10sec: +300°C.
Features
MAX485CPA features: (1) For Fault-Tolerant Applications; (2) For Space-Constrained Applications; (3) For Multiple Transceiver Applications; (4) For Fail-Safe Applications; (5) For Low-Voltage Applications.
Diagrams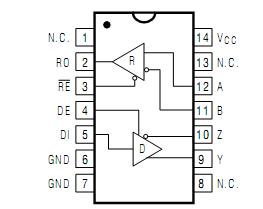 Image
Part No
Mfg
Description
Pricing
(USD)
Quantity

MAX485CPA

Maxim Integrated Products

RS-422/RS-485 Interface IC

Data Sheet

Negotiable

MAX485CPA+

Maxim Integrated Products

RS-422/RS-485 Interface IC RS-485/RS-422 Transceiver

Data Sheet



| | |
| --- | --- |
| 0-1: | $1.91 |
| 1-25: | $1.28 |
| 25-50: | $0.93 |
| 50-100: | $0.92 |