Product Summary
The NJM2207 is a video signal superimposer, with synchronous separation circuit, vertical sinchronous reproduce circuit and two video high performance switches for switching from video signal to character signal and background signal. The NJM2207 is suitable for simply indicating the date time, TV channel and others.
Parametrics
NJM2207 absolute maximum ratings: (1) supply voltage V: 17V; (2) Power Dissipation, PD: 500mW (ZIP16) , (DIP14) 700mW, 300mW (DMP14) ; (3) Operating temperature range Topr: -40 to +85°C; (4) Storage temperature range Tstg: -40 to +125°C.
Features
NJM2207 features: (1) operating voltage: +4.75 to +13V; (2) With synchronous speration circuit; (3) with vertical sinchronous reproduce circuit; (4) range outline: DIP-14, DMP-14, ZIP-16; (5) biploar technology.
Diagrams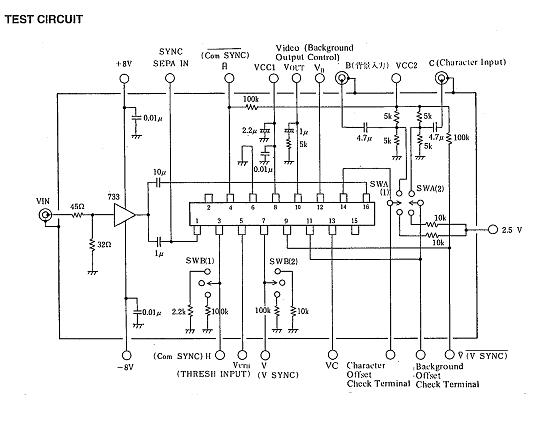 Image
Part No
Mfg
Description
Pricing
(USD)
Quantity

NJM2207D

NJR

Video ICs Dual H Bridge Driver

Data Sheet



| | |
| --- | --- |
| 0-1000: | $0.83 |
| 1000-2000: | $0.78 |


NJM2207M

NJR

Video ICs Dual H Bridge Driver

Data Sheet



| | |
| --- | --- |
| 0-1: | $0.95 |
| 1-25: | $0.86 |
| 25-100: | $0.77 |
| 100-250: | $0.71 |


NJM2207M-T1

NJR

Video ICs Universal Sink Drvr

Data Sheet

Negotiable

NJM2207M-T2

NJR

Video ICs Universal Src Drvr

Data Sheet

Negotiable

NJM2207M-TE1

NJR

Video ICs Superimposer

Data Sheet



| | |
| --- | --- |
| 0-2000: | $0.71 |
| 2000-6000: | $0.65 |
| 6000-10000: | $0.60 |


NJM2207S

NJR

Video ICs Super Imposer

Data Sheet

Negotiable

NJM2207M#

NJR

IC VIDEO SGNL SUPERIMPOSER 14DMP

Data Sheet



NJM2207D#

NJR

IC VIDEO SGNL SUPERIMPOSER 14DIP

Data Sheet